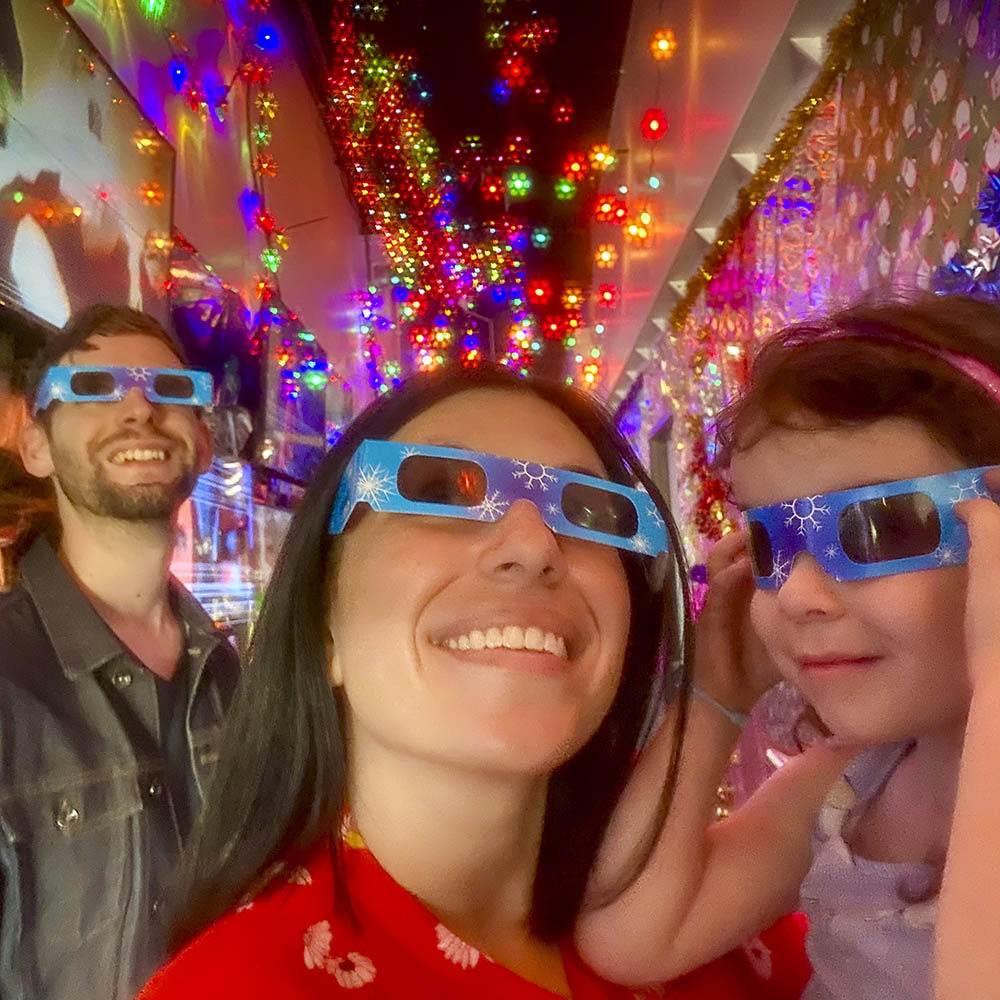 Step into the extraordinary this festive season! Presenting Illumaverse: a new Austin immersive art experience where Earth's cherished holiday traditions are remixed, reimagined, and reinterpreted.
Explore 6,000 sq ft of installations built by local artists, all designed to transport you through a portal to another world where Earth's holiday season has been given a cosmic makeover.
From families seeking a magical day out, to couples desiring an unforgettable date night, to friends hunting for a fresh holiday twist, Illumaverse welcomes all.
TICKETS
All visitors ages 4 and up need a ticket to enter the space. Ages 3 and under are free.
Children ages 17 and under must be accompanied by an adult.
We recommend purchasing tickets online ahead of time, as this is the only way to guarantee entry for your desired day and time, but tickets will also be for sale at the door, pending availability. If purchasing in person, please note that we are a cashless operation.
To purchase tickets, click here. Discounts are available for students, seniors, military, and groups of 10 or more. Please bring a valid ID when attending the event.
All tickets are refundable up to 24 hours in advance.
WHAT IS ILLUMAVERSE?
Illumaverse is a family-friendly pop-up holiday art event that will take place in East Austin throughout December. This immersive experience spans over 6,000 square feet throughout multiple rooms and features interactive exhibits, captivating landscapes, and ethereal music that put an other-worldly spin on Earth's holiday season.
Created by Nelda Studios, dadaLab, and other local artists, Illumaverse offers a unique blend of immersive sound, light, art, and interactive technology.
Step through the portal into the Illumaverse and experience the holidays like never before!
HOURS OF OPERATION
Fridays: 6:00 pm–11:00 pm
Saturdays: 11:00 am–11:00 pm
Sundays: 1:00 pm–10:00 pm
The last entry window of the day is 75 minutes before closing.
Illumaverse is open to the public on the weekends of December 8–10, 15–17, 22–23, and 29–30.
Only visitors ages 18+ will be admitted after 9 pm on Fridays and Saturdays.
Illumaverse is also available for private group bookings throughout December. Please email info@nelda.com for more details.
GETTING IN TOUCH
Currently, we do not offer customer service via phone, but we check our email frequently! Please email us at
info@nelda.com
if you need assistance, and we will get back to you ASAP.
ARRIVAL TIMES
We recommend arriving 10 minutes before your ticketed time slot.
Visitors arriving late to their session will be accommodated at the closest available time, pending staff discretion.
There is no re-entry permitted once you have entered Illumaverse.
DIRECTIONS
Illumaverse is located inside dadaLab at 2008 Alexander Ave, Austin, TX 78722.
From I-35: Exit MLK Blvd heading East, then turn left on Alexander Ave.
From 183: Exit MLK Blvd heading West, then turn right on Alexander Ave.
PARKING
Please check back soon for a map of all free neighboring parking lots open to Illumaverse visitors. There is also ample free street parking available in the area.
FOOD & DRINK
No outside food or drinks are allowed within Illumaverse.
Alcoholic and non-alcoholic beverages and themed snacks will be available for purchase.
Please note that we are a cashless operation.
ACCESSIBILITY
Illumaverse is wheelchair accessible. Some installations may be triggering to those with seizures or sensory issues. Please email
info@nelda.com
if you have any additional questions.
PHOTOGRAPHY
Non-professional, non-commercial, personal photography is allowed and encouraged!
BAGS & STROLLERS
Strollers and bags are welcome, though they may be subject to search. We ask that you leave all luggage and larger bags at home or in the car, if possible.
HEALTH & SAFETY PROTOCOLS
In keeping with CDC and public health guidance, masks are optional, and proof of COVID vaccination is not required.
WHAT NOT TO BRING
Guests and their property are subject to search upon entry. Please leave any prohibited items at home or in your vehicle.
Prohibited Items:
Outside food and beverages, unless medically necessary
Professional camera equipment
Firearms or other weapons or explosives, regardless whether openly carried or concealed
Federally illegal drugs
Drugs or medications without an appropriate prescription label
Any live animal that is not a service animal as defined by the ADA (Emotional Support Animals will not be allowed)
Any item that challenges public safety, according to our staff
CODE OF CONDUCT
For the safety of our guests, staff, and property, please respect the following rules, or you may be asked to leave the premises:
Smoking or vaping of any kind is not permitted inside the building or within 25 feet of the entrance.
All persons and belongings are subject to search prior to entry.
We reserve the right to forbid certain items inside the exhibit (please see What Not to Bring).
We reserve the right to refuse entry or service to anyone.
An adult must accompany anyone under 18 at all times.
Service animals should remain on a leash and under the control of the owner at all times.
Guests are encouraged to report inappropriate behavior to a staff member.
Clothing worn in such a way that exposes genitals, buttocks, or nipples is not allowed.
Clothing items or visible tattoos depicting violence, nudity, vulgarity, or threatening language are not allowed.
Refrain from any unwanted verbal or physical interaction with other guests or staff.
Do not vandalize or steal any property of Illumaverse or dadaLab.